Earn the new Business Information Worker Certificate in 2 semesters. Students may also join the BIW Cohort Group. Download our latest BIW Cohort Schedule for more information.
Sample Student Cohort Schedule - Fall 2018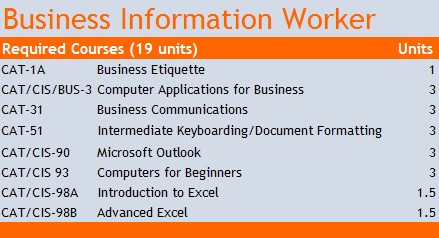 Enroll Now!
New students, see the RCC site for college application deadlines: http://www.rcc.edu/services/admissions/Pages/Dates-and-Deadlines.aspx
New Students/Missed Application Deadline: CAT program students may call Bonnie Langley at (951)222-8624 if you have missed the application deadline for the term in which you were interested AND up to 3 days after the class starts. Some restrictions apply.
Continuing students (those who have already been taking classes at RCC) please enroll in these courses on your registration date. If a class is closed please add yourself to the waitlist and attend the first class meeting. Contact janet.lehr@rcc.edu or visit Business Education Building 220E if you have trouble adding a course or a class is closed.